Record Annual Results & Achievements for Waikato-Tainui
Published: July 23, 2017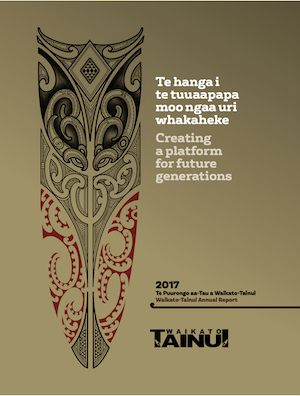 Press Release – Waikato-Tainui
Waikato-Tainui Annual Result 2017 Waikato-Tainui is reporting a record year of results and growth, highlighted by the return of the sacred whenua of Rangiriri Paa.Record Annual Results & Achievements for Waikato-Tainui
Waikato-Tainui Annual Result 2017
Waikato-Tainui is reporting a record year of results and growth, highlighted by the return of the sacred whenua of Rangiriri Paa.
Maxine Moana-Tuwhangai, Chairman of the tribal authority Te Whakakitenga o Waikato, said the 2017 financial year had shown good progress with a net profit of $137.8 million, an increase in tribal wealth by $128 million to $1.07 billion, and record distribution alongside achievements in the delivery of social, cultural and environmental value.
"Waikato-Tainui is implementing a range of programmes to support the vision our tuupuna had for the success and wellness of our people today, our mokopuna of tomorrow, and our whenua and awa," said Ms Moana-Tuwhangai.
"The 2017 financial year is significant for the progress made in important areas such as supporting our marae, revitalising our Waikato reo and tikanga, growing our tribal estate, resolving affordable housing challenges, educating our members, and enabling career and job opportunities," she said.
The tribe's goals for the development of its people had taken a major step forward with the commitment of significant funds towards the key areas of housing, land purchases and revitalisation of Waikato reo and tikanga. Some of this funding, which totals $57.5 million, was already making positive impacts, with the remainder to be invested over time.
Ms Moana-Tuwhangai said the tribe's strategy to develop strong and mutually beneficial partnerships with key organisations was also a factor in its overall progress.
"The Waikato Raupatu Lands Trust, Waikato Raupatu River Trust, Waikato Endowed Colleges Trust and Tainui Group Holdings are working closely with a range of government, business, iwi and community partners to help achieve our objectives. We believe strongly in the principle that supporting others enables us all to succeed and I acknowledge all of those partners we have working with us today."
Rukumoana Schaafhausen, Chairman of the tribe's executive committee Te Arataura, said the return of Rangiriri Paa in August 2016, achieving the milestone of more than 10,000 education grants and scholarships since 1995, and the doubling of the annual marae grant were special highlights.
"The cultural, spiritual and historical significance of Rangiriri cannot be understated and its return has begun the healing of a mamae that is more than 150 years old," she said.
"Additionally, the significant increase in annual grants to our marae is a development that will see tangible rewards in our communities, as does our continuing investment in the education of our people."
Partnerships, asset investments, and a vibrant business environment had contributed to record financial results for Tainui Group Holdings (TGH).
TGH Chairman, Sir Henry van der Heyden, said for the first time in its history the company was reporting a net profit of more than $100 million in a single year. The net profit was comprised of both cash and significant increases in asset valuations.
"The record net profit of $114.8 million and TGH's strong financial position have enabled us to pay a record dividend of $16 million plus a further special dividend of $6 million, for a total dividend of $22 million," said Sir Henry.
The value of assets owned by the tribe and managed by TGH was $855 million at the balance date of 31 March 2017, a decrease of $54 million over the past 12 months (due to the sale of a half share of The Base and repayment of debt). Return on Investment was 17.2 percent, up 9.8 percent from the 2016 year. Total debt was $123 million or 14.2 percent of total assets, compared to 27.2 percent at the balance date last year, and Equity grew to $660 million, an increase of $91.2 million over the past 12 months.
KEY FY2017 HIGHLIGHTS FOR WAIKATO-TAINUI
TRIBAL:
Rangiriri Paa and Te Wheoro Historical Reserve returned to tribal ownership.
Group Net profit of $137.8 million
Tribal wealth (equity) $1.07 billion.
Record distribution of $11.06 million.
Annual marae grant doubled to $2 million.
$57.5 million in Relativity funds released by Te Whakakitenga o Waikato to Te Arataura for investment in housing, te reo Maaori, and land purchases:
$5 million committed to Tikanga Ora Reo Ora Maaori language and tikanga strategy over the next five years. To date Te Reo Kaapuia (for school teachers) and Te Reo Kaakaho (for moderate level speakers) programmes and resources have been launched.
$12.5 million committed to invest in affordable housing solutions, such as the Jebson Place, Hamilton, initiative.
$40 million committed to purchase landholdings to grow the tribal estate. At financial year end two farms owned by Solid Energy and covering 435ha had been purchased, plus a further farm property in April 2017 totalling 170ha.
Milestone of more than 10,000 educations grants and scholarships distributed since 1995 (Raupatu settlement).
Kawenata signed with 25 kura to support education achievement of rangatahi.
27 summer internships by the Waikato-Tainui College of Research and Development, for a total of 42 interns since 2012
The Takituu (in partnership with Ngaii Tahu) and Whakatupu governance and management programmes delivered by our College to 50 marae.
Graduation of the College's third MBA cohort of 16 students, for a total of 42 graduates since 2011. This international award-winning MBA is delivered in partnership with the University of Waikato.
Careers Centre launched: 
137 tribal members supported into jobs.
42 apprenticeships created with business partners and suppliers to Waikato-Tainui. Partners include Foster Construction, VRS Roofing, Livingstone, Aurecon, AMP, Tiger Construction, Singer, WEL Networks, BNZ, Chubb (Insurance), Willis.
Funding received from Te Puni Kookiri to expand the Careers Centre model into South Auckland.
Kia Haere Tu launched: 
Breaking down barriers to employment by supporting members to acquire their driving licence. Partners include Te Puni Kokiri, NZ Transport Agency, Mercury Energy, VTNZ, PassRite Driving Academy.
Housing: 500 members completed home ownership and financial literacy courses, with 29 successfully independently purchasing homes.
COMMERCIAL:
Net Profit of $114.8 million, comprising asset valuation increases and cash.
Dividend of $16 million plus $6 million special dividend.
Completion of the sale of a 50% shareholding in The Base, Te Rapa, to Kiwi Property for $192.5 million. $46 million contributed to the tribe, $100 million repaid in bank debt, $50 million invested in shares portfolio.
Ruakura inland port development soil turning ceremony by Kiingi Tuheitia. Ruakura joint venture partner is world-class port operator LINX Cargo Care Group.
New luxury hotel at Auckland International Airport announced and named Te Arikinui in memory of our late Maaori Queen Te Atairangikaahu. This is a 50 percent joint venture with Auckland International Airport.
Existing hotels (Novotel Hamilton, Ibis Hamilton, Tainui Novotel Auckland Airport) continue to be high performing.
Plans advanced for a Ward St commercial building development.
Rotokauri Rise residential development progressed.
Direct investments in Go Bus and Waikato Milking Systems remain steady.
Source: http://community.scoop.co.nz/2017/07/record-annual-results-achievements-for-waikato-tainui/
<< Go Back